Emeli Sandé
Website: http://www.emelisande.com/
Facebook: https://www.facebook.com/emelisande/
Twitter: https://twitter.com/emelisande
YouTube: https://www.youtube.com/user/EmeliSandeVEVO
Images: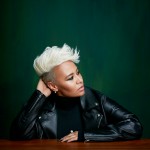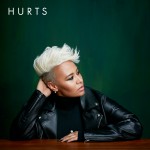 Bio:
One word comes to mind when you hear Emeli Sandé's new music. It's palpable in every note, in each lyric; its visceral presence exists even in the silence.
Freedom.
It's from that feeling of freedom that Emeli Sandé's new single 'Hurts' was born. An uplifting ballad brimming with heart and soul, 'Hurts,' produced and co-written with Mac & Phil [Miguel, Naughty Boy], manages to embody both raw pain and joyful redemption as Sandé sings 'You could at least try look at me/ Man oh man what a tragedy/ Bang bang there goes paradise….Baby I'm not made of stone, it hurts/ Loving you the way I do, it hurts'.
"I wanted to release 'Hurts' first because it felt like everything I'd avoided saying for so long," says Sandé, "It's a real explosion. It's everything I wish I'd said years and years ago. I didn't want to hold anything back anymore."
A lot has happened to Sandé in the four years since the resounding success of her critically acclaimed number one record, Our Version Of Events. Not only was it the biggest selling album of 2012 and second biggest selling album of 2013 in the UK, but it was also certified 7x platinum, spent seven non-consecutive weeks at No.1 and exceeded The Beatles' previous record by spending 63 consecutive weeks in the top 10 and selling over 4.6 million copies worldwide.  In Australia, she has sold over 400K combined units.   The Aberdonian scored three UK number 1 singles including 'Next to Me' which is certified platinum in the U.S., with over 1.5 million singles sold. Sandé has won numerous accolades including 3 X Brit Awards (Critics Choice, Best Album, Female Solo) as well as awards from Q Magazine, Elle, Harpers and GQ.  The multi-instrumentalist initially made her mark as a songwriter in the UK urban scene via acts such as Wiley, Wretch 32 and Chip, later becoming a highly sought-after writer for a wide array of international acts including Alicia Keys, Rihanna and Katy Perry.
As 2013 came to a close, Sandé was exhausted and unable to ignore the strain it was putting on a number of close relationships, "Sounds a bit dramatic but I just wanted to disappear. I just had this overwhelming sensation and realisation everything had to stop," she reflects, "And then slowly it did."
Now, Sandé has let go and opened up, and she's come out stronger than ever, "In retrospect, I was like a pressure cooker waiting to pop off. I had to stop and really look at myself and realise who I was. That's been the biggest lesson for me, learning to feel comfortable in who I am and what I represent and what I stand for."
'Hurts' and the rest of Sandé's upcoming second album mark a brand new chapter in her life,  "I'm proud of my first album and thankful for the experiences it gave me, but I'm so much happier with my new album and with where I am in life."