Golden Features x The Presets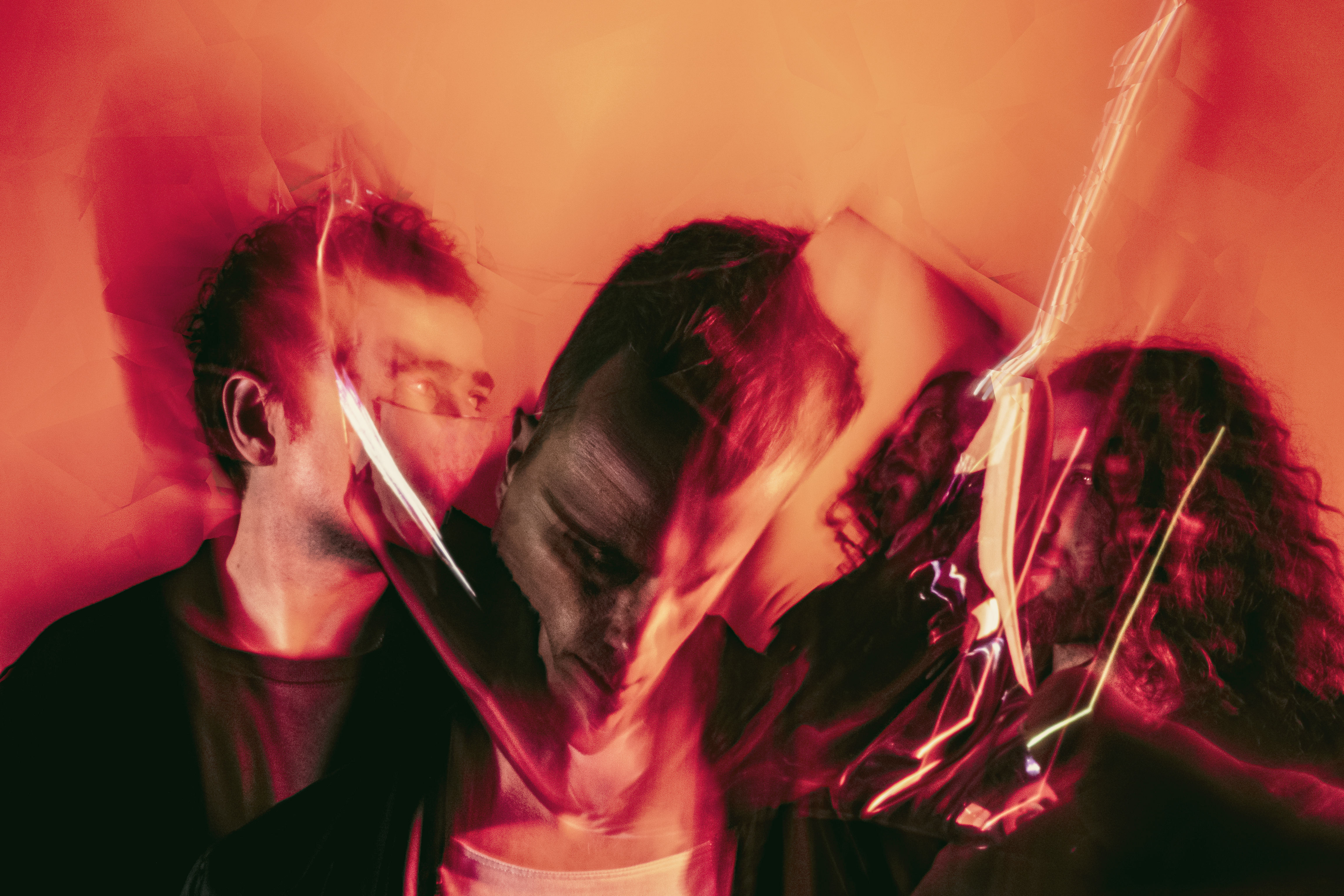 Website: goldenfeatures.com thepresets.com
Facebook: facebook.com/goldenfeatures facebook.com/ThePresets
Twitter: twitter.com/GoldenFeatures twitter.com/ThePresets
Instagram: instagram.com/goldenfeatures instgram.com/ThePresets
YouTube: youtube.com/GoldenFeatures youtube.com/ThePresets
Artwork:
Images:
Videos:
Bio:
Two of Australia's finest exponents of EDM – festival tent-swelling extraordinaire Golden Features and dance godfathers The Presets – have collaborated to create the 4-track EP, RAKA.
Trailblazing artists in their own right, Tom Stell, Julian Hamilton and Kim Moyes have combined their powers for the good of dancefloors everywhere. The collab was always going to be exciting, but over four tracks the trio have not only managed to enhance each other, they've shown us sides of their sonic repertoire that we've never heard before.
Title track and opener Raka sets the tone, a snarling lights-down thumper with vocalist Julian Hamilton barking out a question, a challenge, or maybe both "I wanna know who's feeling foolish". Next is Paradise, currently all over the triple j airwaves, it's classic Presets euphoria toughened up by Golden Features signature colossal low end. Future fan favourite Control is all sticky modular blips, an expertly restrained buzz-saw synth and marching band snare rolls. Closer The End is a real curveball, and a moment to catch your breath. A brilliantly moody deep-exploration of each artists sound, coming off like a gothed-up Portishead trading studio gear with The Bug.
Tom Stell explains, "I discovered The Presets when I was 16 or 17. I became so quickly obsessed that I purchased my first fake ID to attend Shore Thing (a now defunct NYE festival at Bondi Beach). That night I remember being in a state and boom 'This Boys In Love' came on and that was it. It was over. Years later when the Golden Features stuff started, the boys released 'No Fun'. I asked to remix it and they kindly obliged. While I was writing SECT I was intro'd to Kim by a mutual friend and he came to grab coffee and listen to the demos. He had this amazing reaction to the music and eventually offered to help me nail the vocals for 'Falling Out'. The beginning of this year I was in Joshua Tree when I got an email from Jules and Kim asking if I wanted to work together on an EP and I jumped at the opportunity. 10 years of fan boying came crashing down on my head. I can't really describe it now it's done. It was a deeply humbling experience which I now feel I'm all the better as an artist as a direct consequence. Anyways, not to waffle. Love you J&K. This is RAKA."
Discussing their union, Julian says, "Kim and I jumped at the chance to collaborate with Tom. We have been a fan of his Golden Features project ever since he remixed our song 'No Fun' back in 2014.
We started by getting together in the studio, setting up a bunch of synths and pedals, and just going wild with them – creating berserk acid lines and rolling arpeggiator patterns – and capturing as much craziness as we could. Later we would cook these ideas down together, reducing them to their simplest and strongest incarnations. Tom would then take these recordings home with him and further mould them into these dope patterns and beats. He is such a fast and talented producer. Meanwhile I would throw different lyrical ideas over the tracks at my place. We would swap ideas remotely – emailing and texting ideas back and forth every few hours. Everything grew really organically, and very quickly. It was a super exciting couple of weeks of music making.
Collaborating with Tom was such an enjoyable way to make music. Collaboration in general is very rewarding. You don't have to be as precious as you might normally be when creating your own stuff. You can afford to explore new areas and try a bunch of things you ordinarily wouldn't – often leading to really exciting results. It has been great fun stepping outside the walls of The Presets world and seeing what can be found there. We can't wait for fans to hear the EP. We are really proud of it and hope to make more music with Tom in the future."
The connection between The Presets and Golden Features harks back more than a decade. Stell's first ever concert experience was a New Year's set The Presets played at Bondi Beach 2008/09, peak Apocalypso, and his first ever official Golden Features release was a remix of The Presets' track "No Fun" in 2014.
Stell is renowned for his Golden Features masked DJ / live sets, ensuring that his art is appreciated for art's sake, values that were instilled in him as a teenage graffiti artist. His self-titled EP in 2014 landed him extensive airplay on triple j; his follow up EPs XXIV and Wolfie/Funeral, in 2015 and 2016 respectively, saw him sell out his Australian headline tour in 2015 and rack up appearances at Falls Festival, Splendour In The Grass and Field Day. In 2016 he toured the US with Alison Wonderland and in 2017, embarked on his own headline US tour.
Golden Features' debut LP SECT, released in August 2018, delivered on the promise of his earlier releases, receiving widespread critical acclaim and landing at #11 on the ARIA Albums Chart.
In 2008 The Presets released the chart topping Apocalypso, selling in excess of Triple Platinum sales in Australia and featuring four hit singles, including the classic 'My People'. Setting new standards for dance music in Australia, The Presets went on to win 5 ARIA awards (and 2 ARIA Artisan Awards) including Album of the Year, as well as the J Award and FBI SMAC Award for Album of The Year. Kim and Julian also shared the coveted Songwriter of The Year Award at the 2009 APRA Awards.
Pacifica was released in 2012, featuring Rolling Stone Magazine's Song Of The Year, 'Ghosts'. Pacifica was also nominated for an ARIA, shortlisted for the AMP Award, the J Award, and was Album of the Year in the Herald Sun and Daily Telegraph, and Electronic Album of the Year in the Sydney Morning Herald. The Presets returned in 2018 with their long awaited fourth album, HI VIZ, which debuted at #1 on the iTunes album chart within hours of its release and was nominated for two ARIA Awards as well as the prestigious Australian Music Prize. The record spawned triple j Hottest 100 favourites "Do What You Want" and "Martini", with the latter nominated for Best Song at the FBi SMAC Awards in 2019
RAKA EP Tracklisting:
1. RAKA
2. PARADISE
3. CONTROL
4. THE END