Hootie & The Blowfish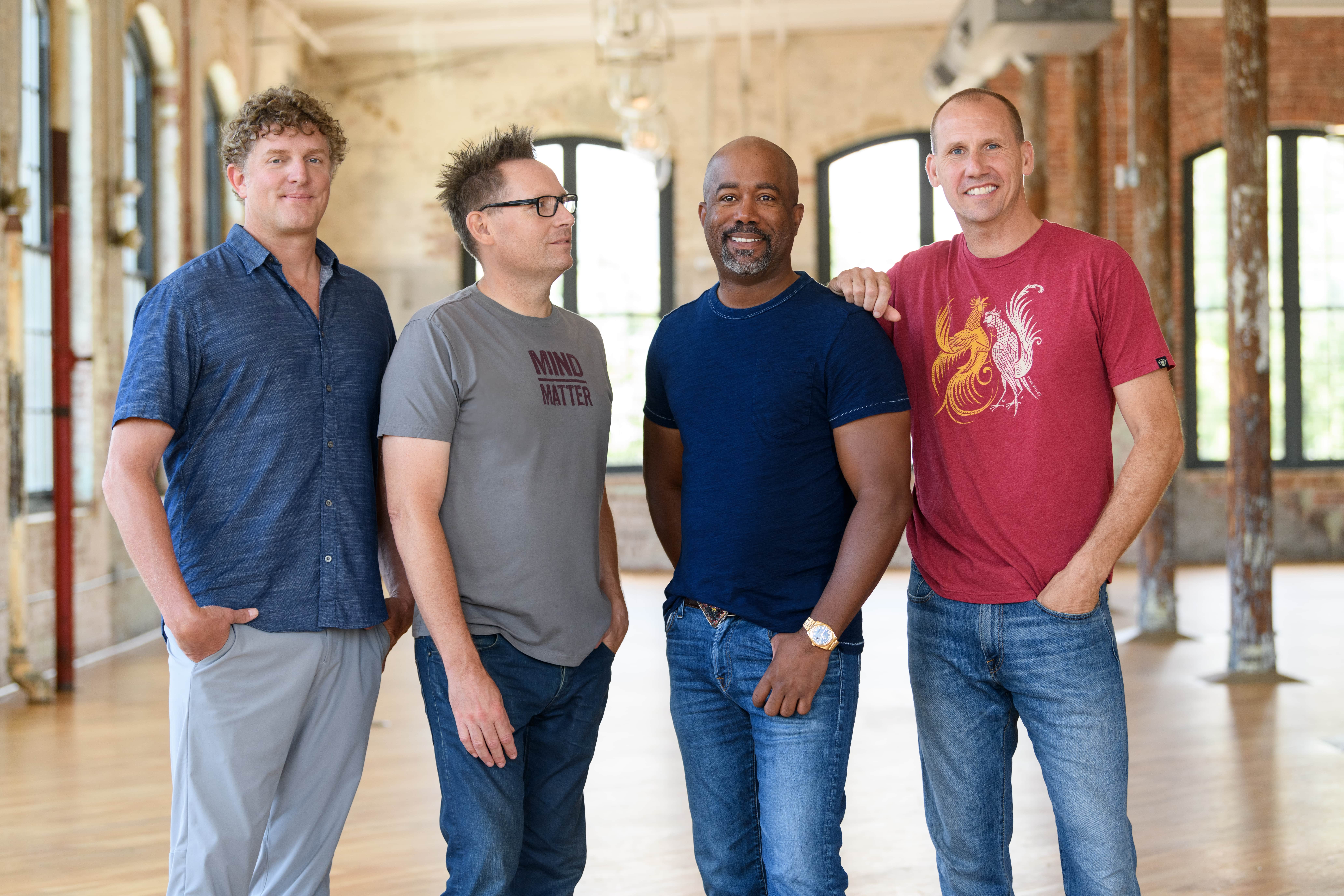 Hootie & The Blowfish announce the track list for their November 1st album, "Imperfect Circle"
Website: hootie.com
Facebook: facebook.com/hootieandtheblowfish
Twitter: twitter.com/HootieTweets
Instagram: instagram.com/hootieofficial
YouTube: youtube.com/hootieandtheblowfish

Artwork:
Images:
Bio:
Nine months after delighting fans with the news of their first album in nearly fifteen years, Hootie & the Blowfish share the first taste of what's to come with Imperfect Circle's November 1 release via "Rollin'.
 
Written by Hootie & the Blowfish together with Adam Doleac, Zach Kale and John King, the track premiered exclusively with Billboard.
 "When we started getting that one going I was like, 'Man, we're a Southern rock band when we play this,'" frontman Darius Rucker shared. "I loved it. It's like us trying to play a Black Crowes or Allman Brothers cover. I love the feel of that 'cause we don't do that a lot."
 
Imperfect Circle's track listing includes a Lucie Silvas feature on "Wildfire Love," which features Ed Sheeran as a co-writer, as well as Chris Stapleton's penmanship on the only outside cut, "Hold On," and Sheryl Crow on backing vocals throughout the album.
 
"I think it's cool that Imperfect Circle kind of has the same ring to it as Cracked Rear View where you're looking back and you realise nobody's journey is perfect, but here we are," says guitarist Mark Bryan of the album's name. "We've been playing together for thirty-something years and for us to be here and to be doing this tour, to be making a record, it just seems like Imperfect Circle was perfect," adds Rucker.
 
Set for release November 1 on Capitol Nashville / EMI Music Australia, the album is now available for pre-order HERE.
With the rich, bluesy vocals of Darius Rucker and gleeful harmonies of guitarist Mark Bryan, bassist Dean Felber and drummer Jim "Soni" Sonefeld, Hootie & the Blowfish have sold over 25 million records worldwide to date after their infectious melodies hit the airwaves in 1994 with hits such as "Hold My Hand," "Let Her Cry" and "Only Wanna Be With You."

The quartet met at the University of South Carolina where endless gigs at frat houses and local bars built a major local buzz. Their blend of pop, folk, blues, soul and rock made them hard to pigeonhole, but easily accessible to anyone who loved good music. 

Atlantic Records, impressed by their regional draw, signed them and released Cracked Rear View in 1994. The album had been out for six months before the band played on the Late Show with David Letterman which sent sales skyrocketing, eventually landing at No. 1 on the Billboard chart the following spring. Cracked Rear View and the band went on to win two GRAMMY Awards, an MTV Video Music Award, a Billboard Music Award, and multiple People's Choice Awards. Cracked Rear View went on to earn the band Billboard's Band of the Year Award in 1996 and the RIAA's Diamond Award for sales in excess of 10 million units. Cracked Rear View remains among the Top 10 most-certified studios album in music business history.

The band remained a top draw nationwide and released five more albums for Atlantic: Fairweather Johnson, Musical Chairs, Scattered, Smothered & Covered, Hootie & The Blowfish and The Best of Hootie & The Blowfish, as well as Looking For Lucky on their own Sneaky Long Records and LIVE in Charleston, The Homegrown Concert Event DVD and CD. The band took a break from full-time touring in 2007, reuniting annually for a variety of philanthropic events while also pursuing solo projects. 2019 marked the band's first full-time touring year in over a decade as they embarked on the Group Therapy Tour ahead of Imperfect Circle, their first album in nearly 15 years due out November 1 under a new record deal with Universal Music Group Nashville.

Imperfect Circle Track Listing:
1.   New Year's Day (Hootie & the Blowfish, Tofer Brown, Eric Paslay and Jeff Trott)
2.   Miss California* (Hootie & the Blowfish, Andrew DeRoberts and David Ryan Harris)
3.   Wildfire Love (Featuring Lucie Silvas) (Hootie & the Blowfish, Joel Crouse, Kyle Rife and Ed Sheeran)
4.   Hold On* (Jim Beavers and Chris Stapleton)
5.   Turn It Up (Hootie & the Blowfish and Jeff Trott)
6.   Not Tonight (Hootie & the Blowfish, Andrew DeRoberts and David Ryan Harris)
7.   We Are One (Hootie & the Blowfish)
8.   Everybody But You* (Hootie & the Blowfish and Frank Rogers)
9.   Lonely On A Saturday Night (Hootie & the Blowfish, Eric Paslay and Jeff Trott)
10. Why (Hootie & the Blowfish, Chris August and James Slater)
11. Rollin' (Hootie & the Blowfish, Adam Doleac, Zach Kale and John King)
12. Half A Day Ahead (Hootie & the Blowfish)
13. Change (Hootie & the Blowfish) 
Album Produced by Jeff Trott
*Produced by Frank Rogers