Mary J. Blige
 A one-of-a-kind blend of hip-hop and soul that has excited fans for more than 20 years…
Website: http://www.maryjblige.com/
Facebook: https://www.facebook.com/maryjblige
Twitter: https://twitter.com/maryjblige
YouTube: https://www.youtube.com/user/MaryJBligeVEVO

Artwork: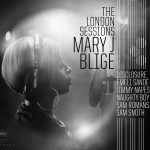 Videos:
Bio:
Mary J. Blige has once again confounded expectations and ventured into new musical territory by crossing the Atlantic to collaborate with some of this decade's most celebrated UK musical talent – including Disclosure, Eg White, Emile Sandé, Jimmy Napes, Naughty Boy, SAM ROMANS and Sam Smith – and recorded a new studio album, The London Sessions. This extraordinary new collection will be released November 28 on Capitol Records.
According to Capitol Music Group Chairman Steve Barnett, "Mary J. Blige created a one-of-a-kind blend of hip-hop and soul that has excited fans for more than 20 years, making her one of the most successful and acclaimed artists in any genre of music. The London Sessions is a fantastic album; another step forward for this great and enduring artist, and I am thrilled that she is now an important member of our Capitol Records family."
"It's all about the London Music scene and I'm so excited to have been part of it, to record my album," says Blige. "The songs are fun, therapeutic and soulful. This is a beautiful change for me and I'm proud of what we have done here."
"The London Sessions is, number one, the bravest thing, and number two, just so honest," says Smith. Disclosure adds, "It's the reason that people like Mary are so successful – they're just not afraid to change what they do completely."
This fearlessness propelled Blige to London's thriving musical community, who embraced her fully and helped her create an album that displays the true evolution of an artist. Each of the collaborators worked with Blige to create a new body of work driven by her one-of-a-kind voice. The results are altogether thrilling.
Additionally, a trailer containing an intimate peek into the making of this album has exclusively launched on Pitchfork today. The stunning footage follows Blige on her musical journey in London, from beginning to end, with the music and movement offering a power spectacle of the forthcoming album.
"The London Sessions" will be available to pre-order on September 23. Blige will make her next appearance at the iTunes Festival in the UK on September 25.
With a track record of eight multi-platinum albums, nine Grammy Awards (plus a staggering 31 nominations), a 2012 Golden Globe nomination, and four American Music Awards, Blige is a global superstar. And in ensuing years, the singer/songwriter has attracted an intensely loyal fan base – responsible for propelling worldwide sales of more than 50 million albums.