Empire Of The Sun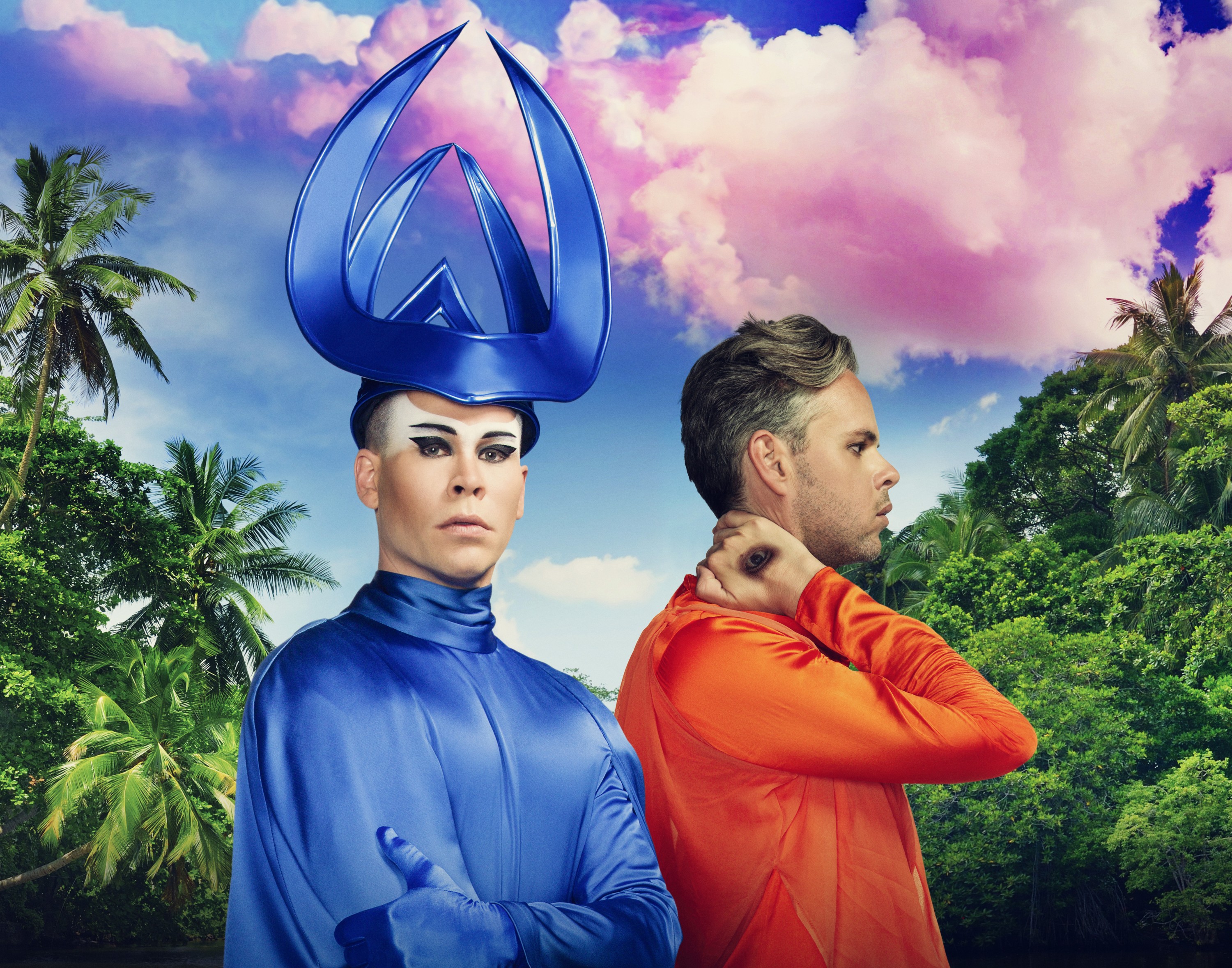 "Pop Like You've Never Heard It Before"
Website: empireofthesun.com
Facebook: www.facebook.com/empireofthesun
Twitter: twitter.com/empireofthesun
Instagram: instagram.com/empireofthesunsound
YouTube: www.youtube.com/user/empireofthesunvevo/

Images:
Artwork:
Videos:
Bio:
Alt-electro pioneers Empire Of The Sun welcome you into their garden of unearthly bliss as they return with their third studio album 'Two Vines', set for release on October 28 and available to pre-order now. Through a waterfall of dreams, beyond the white light of an ice curtain lies a lush, green world where childlike innocence and ancient wisdom are one. Enter, Empyrean pilgrims, the jungle paradise that marks the third incredible age of the Empire of the Sun…
We are given a taste of this dreamlike kingdom, as the band unveil two new tracks this week . 'High & Low' the first song to be released from the album has just premiered on LA's KROQ radio and tomorrow, the title track 'Two Vines'  will get its world premiere on triple J. Fans who pre-order the album will receive both songs immediately. Listen to 'High & Low' here
"There was an image we talked about very early on with this record, before we wrote the title track, Two Vines, and that was this image of a modern city overtaken by jungle, almost like mother nature taking back the planet," says Nicholas Littlemore, the co-pilot with Luke Steele of this fantastic vessel of electro-futurist sound and vision. "All the buildings will turn back to sand. All it will be is nature again. We wanted to make something that reflected the beauty of that."
Recorded in Hawaii and Los Angeles, Two Vines is co-produced by Empire Of The Sun and Peter Mayes (Sia, The Killers, Mika), alongside Long term collaborator, Donnie Sloan (Midnight To Monaco) and it sees the creative circle expanding, with esteemed pianist/arranger Henry Hey and bassist Tim Lefebvre, from David Bowie's Blackstar band, featuring heavily on the album. Factor in Wendy Melvoin from Prince's Revolution and Fleetwood Mac's genius guitarist/vocalist Lindsey Buckingham, and the Empire's rainbow has never been so vast and colourful.
"Going to Hawaii to record was the best idea," says Luke Steele of sessions at Honolulu's Avex Studios — where Kanye West holed-up to make My Beautiful Dark Twisted Fantasy in 2010. "That was the catalyst for me. I'd spend the morning surfing then roll in and make music into the night."
Whilst the band have been absent from Australian shores, their constant U.S touring has continued to build a huge audience and profile with the band most recently selling out the prestigious Hollywood Bowl. Their live show has become the highlight of many global festivals with its larger-than-life production featuring stunning visuals, dancing swordfish girls, cryo-bazookas and otherworldly special effects. SPIN praised the band's Coachella performance, observing: "The easiest way to blast off wasn't with MDMA, LSD, peyote, or any other mind-expanding drug. It was with sci-fi Australian dance outfit Empire of the Sun, whose set at the Outdoor Theatre was out of this world."
ABOUT EMPIRE OF THE SUN
In 2008, two of Australia's leading musician/producers LUKE STEELE (The Sleepy Jackson) and NICHOLAS LITTLEMORE (Pnau) created a vision that seemed to come from an alternative reality – a post-apocalyptic psychedelic adventure known as EMPIRE OF THE SUN.  The resulting album Walking On A Dream went on to sell 1.5 million copies worldwide. 8 ARIA awards (including Album of The Year, Single of the Year and Best Group), 2 BRIT nominations (including Best International Album), and many accolades followed. To date the band have sold 3 million copies of their albums Walking On A Dream and Ice On The Dune, and have reached Multi-Platinum status with global singles Alive, We Are The People and Walking On A Dream (which has just been certified platinum – 1 million sales – in the US). Empire Of The Sun's sophomore album 'Ice On The Dune' debuted at # 3 in Australia and achieved peak chart positions of #2 in South Africa and Mexico, #3 in France, Italy, and Switzerland, #8 in UK, Ireland, Germany, Belgium, Austria and Netherlands, Top 20 in the US.