George Maple
Facebook: https://www.facebook.com/GeorgeMapleOfficial
Instagram: https://www.instagram.com/georgemapleofficial
Twitter: https://twitter.com/georgemaple_
Spotify: https://open.spotify.com/artist/19m3oZKjGSLzVW0OGIAcNg
Images:
Videos: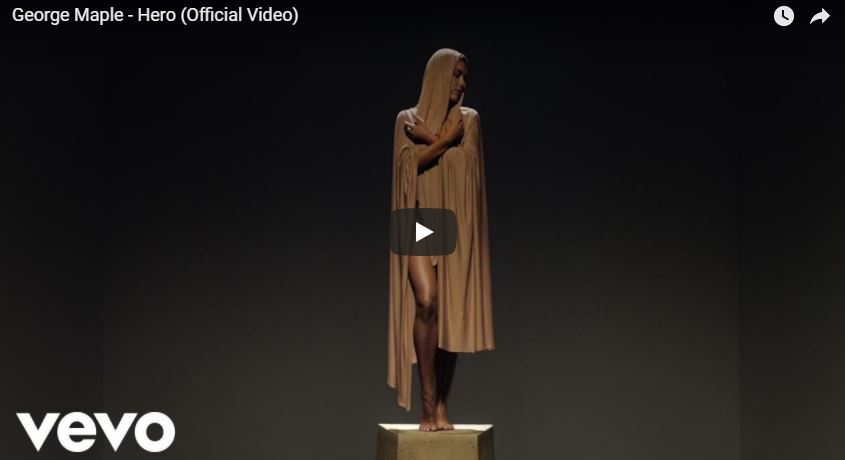 Bio:
Australian producer/ songwriter / singer George Maple reveals the details for her long awaited debut album 'LOVER' alongside the video for her new single 'HERO'.
On 'Hero', Maple goes full euphoric pop to create an anthem about finding strength in vulnerability, a striking clarion call to arms to the broken among us.
The powerful video, filmed in LA, was directed by long-time collaborator Leticia Dare and renowned artist /director Saulo Madrid. Frame by Frame, the video reveals the depth and dimension of Maple's psyche. Maple performs as as the centre art piece in a revolving installation. In one scene paying tribute to a famous Pina Bausch performance, "Struggle".  Maple reveals the video was a highly personal experience:
"This video is an exploration of the strength that can be found in vulnerability. This song means so much to me and the process of this video was not only a cathartic experience but a huge turning point of acceptance.
I have lost a number of people very close to me in my life and my coping mechanism has been to bury the pain and sadness to "stay strong and positive" and never show weakness. I would often wonder why these intense bursts of emotion would overpower me particularly in intimate or stressful situations, why I would end up running away, self sabotaging or treating ones I loved as though they were the enemy. Turns out, like so many I was afraid of what it would feel like when the dust settled. 
During the second half of the video you will view a scene where I am harnessed to a rope, trying to break free, paying homage to the extraordinary Pina Bausch.
Whilst performing I stepped back into many painful memories and let go the emotional residue. It was raw. I was genuinely struggling, there is no acting. Every time the harness would push into my ribs I would feel a sense of release. It was like movement therapy."
'Hero' is just one glimpse at what can be expected from her forthcoming 20 track debut album.
'Lover' is a "series of intimate events", sound-tracking a fierce yet fractured existence. Written over two years and in various places across the globe, the album casts Maple as the storyteller swaying in and out of control, triumphantly dancing through the mess and chaos of life's sordid underbelly. The record pays homage to the muddled beauty and vulnerability of human intimacy in fractured times.
It's a journey that's seen George Maple play many roles, from femme fatale to disco diva to fierce heroine, and endure many scars. It's the intersection of Maple's fantasy and reality, presenting a record which amplifies her own observations and experiences of human relations across the last four years.
'Lover' follows an acclaimed EP, Vacant Space released via Australian label Future Classic in 2014, 2015's "Where You End And I Begin" and "Gemini", her masterful collaboration with What So Not.   Most recently she has worked with DJ Snake on 2016's "Talk", a re-crafted  version of her original track "Talk Talk".  Maple has also written for other artists and her writing and production credits include Snakehips, Flume and Tkay Maidza.
TRACKLISTING:
1.    To Be A Lover [Feat. Axel Morgan & Trevor Abbott
2.    Sticks And Horses [Feat. GoldLink]
3.    LA Stripclub
4.    Roman Candy
5.    I Like To Play With Him
6.    Pain
7.    Buried
8.    Lover (Intro)
9.    Lover
10. Harmonie Du Soir [Feat. Sophie Debaere]
11. Hold Me By My Waist
12. Desire [Feat. Alan Watts]
13. Everybody Here Wants You
14. Hero
15. Slow Dancing
16. Kryptonite
17. Where You End And I Begin [Feat. Grande Marshall]
18. Like You Used Too
19. Sweeter Than I [Feat. Qthemusic]
20. Will You 
Praise for George Maple:
"Acting like a time machine,  the Australian's latest track zooms you back to the 1980's,  when glossy electro-pop ruled the charts."  Sunday Times Culture
 George Maple reigns as club queen supreme."  High Snobiety
 "George Maple can do no wrong… naturally, like everything she produces, it works perfectly." – Wonderland Magazine
"Raw, sensual and sinister." – New York Times
"Hypnotising and hugely engrossing"  Complex