Paul Dempsey
Website: http://pauldempseymusic.com/
Facebook: https://www.facebook.com/pauldempseymusic1/
Twitter: https://twitter.com/PaulDempsey
Instagram: https://www.instagram.com/pauldempseymusic
YouTube: https://www.youtube.com/user/pauldempseymusic

Images: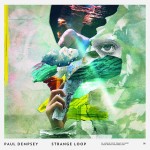 Videos:
Bio:
Having just wrapped up a sold out national tour in support of his single 'Morningless', Paul Dempsey today announces the release of his sophomore LP 'Strange Loop' – to be released May 13 and available for pre-order HERE now. Fans that pre-order the album will instantly receive 'Morningless' and new album track 'The True Sea'.
Co-produced by Paul Dempsey and Tom Schick (Wilco, Ryan Adams) at Wilco's The Loft Studio in Chicago, 'Strange Loop' is an eclectic yet incisive second solo album, with Paul Dempsey confirming yet again his standing as one of Australia's crucial composers and lyricists.
Arriving seven years after the Something for Kate frontman's acclaimed solo debut, 2009's top five ARIA charts success 'Everything Is True', 'Strange Loop' –is freewheeling in form but precisely executed; it's a record that knows what it wants to say, what it needs to be – 11 tracks that enclose surreptitious dry wit, the irregularity of the everyday, and the pathos of longing in a mix of magic hour melodies, striking instrumentation, and tenderly charged vocals.
"With every new song and each new record you just hope to chisel everything a little cleaner than last time, paint the scenery in more precise detail and give some extra dimensions to the stories and also to have as much fun as possible creating all the accompanying noise. I feel completely satisfied that I've done that with this record." says Dempsey of the new LP.
Beginning with the evocative, scene-setting opener 'The True Sea', a quicksilver seven minute arc that equally spans both the vastness of the universe and the intimacy of the bond between two people, 'Strange Loop' is the sound of expanding musical horizons: of guitarmonies colliding with baritone sax; relentlessly driving rhythms and pianos being pounded; whispered vocals and reckless yelps; abandonment and containment; Queen and Kraftwerk; a room full of guitars and a notepad full ideas.
'Strange Loop' reveals a super-charged Dempsey; his voice more potent and powerful than ever, his stories and characters magnified, his instrumentation more adventurous and playful. It's an album that sounds like doing what you want, and actually getting it right. Most musicians would be content with being involved in a single much-loved project, especially one as constantly rewarded as Something for Kate (double figures for ARIA Awards nominations, winners of Triple J's Album of the Year, multiple top ten albums), but 'Strange Loop' is confirmation that Dempsey will alternate between the beautifully rigorous noise he makes with Stephanie Ashworth and Clint Hyndman and his own diverse solo career.
"I love with working with Clint and Steph in Something for Kate, but the solo stuff is not only solitary, it's liberating; there's less talking, less discussion, less debate," Dempsey notes. "Something For Kate thrives on discussion and debate, and I never want to miss out on that, but it's nice to have another outlet where I do everything my way."
'Strange Loop' contains compelling pocket universes, at once uniquely identifiable as one of our great artists at work, but also indicative of fresh forms. It's a dazzlingly intimate record, alive to the very pleasure of being alive…